It seems to be that the only time I write blog posts is when I am home from school–either a sick day, or a snow day–well, I'm thankful to report that today, May 2, is at least NOT a snow day!
And with not much energy for gardening, I've done some puttering, knitting, and picture-taking.
the first daffodils–just started opening about 10 days ago
"Leonard Messel" magnolia–only planted a few years ago, it clearly likes this site right outside the kitchen window
Cornelian cherry in bloom–
Back in February, I shared some projects in process, ones that I was going to focus on. Surprisingly enough, I actually have made progress on  most of them, and of course a few other new projects have crept in as well. Here are a few I'll share today–
 First, a few completed projects, blocked and all–
This is the Caravan blanket (knitspot pattern)–100% Mongolian camel, handspun in Mongolia–4 different camels contributed, and if you look closely, you can see the line between skeins–I love this blanket! I also made a hat from the pattern, in yarn from yet another member of the herd-
Here they are together–note how different the colors are
Now neither of these were projects I shared earlier this year, but the next one is–just barely started back in February, it is now complete! Les Abeilles, a lace shawl made from a lovely hand dyed fingering weight yarn made of 70% merino and 30% seacell rayon, color Abalone–I am very happy with this!
Still in process, but with definite progress made: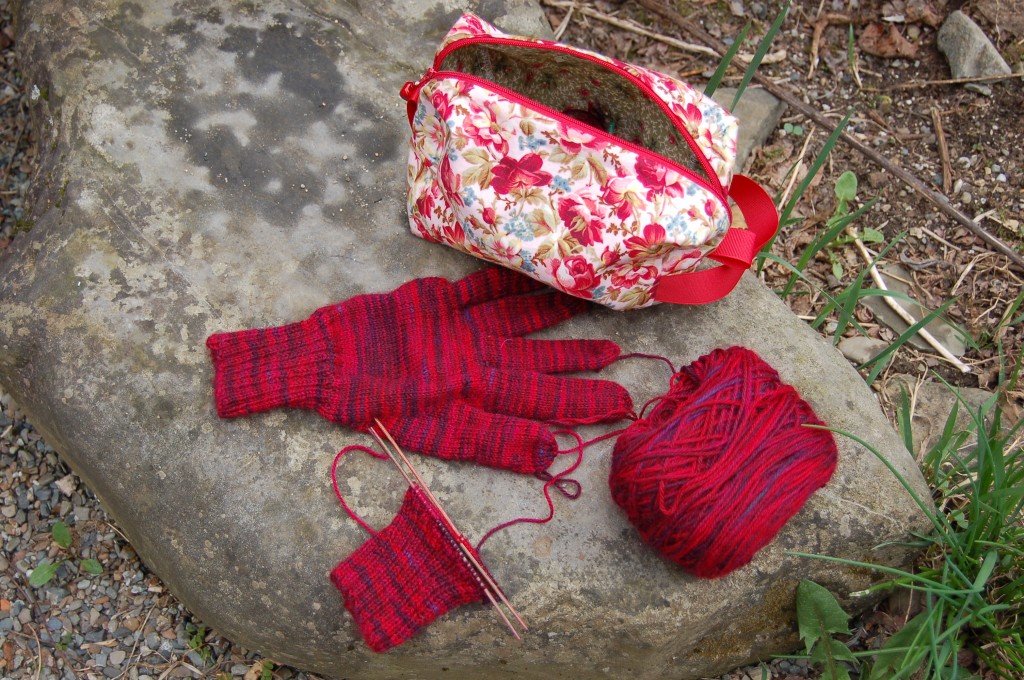 mountain colors "bearfoot" gloves–one down, the other underway, and
longjohn socks, also one down, the other 1/2 way, and
my duchess sweater–one sleeve is done, but it seems big, and I have to be careful with the yarn because I am juggling 2 dyelots–this yarn appears to be out of production–so I'm on to the back, lots of progress made on the recent trip to see James run in the Boston marathon–if necessary the sleeve can be ripped out, once I see how much yarn the back eats up
New to the queue:
in my favorite new TBF bag, knitspot's "hypotenuse" scarf in the Square Roots bag!  yarn is Miss Babs alpacacita lace held double, and a (hopefully) quick little project
a quick, all stockinette roll-brim baby hat with an "umbilical cord" top–just started this one today
and no post is complete without a woo from Fin
on squirrel patrol