If you're a knitter reading this, you already have a pretty good idea what this post will be about. And if I mention that I have been suffering from chronic startitis as well (a pathological need to continue starting new projects), that will probably cause you to assess the time and decide if you want to read any further.
As with aficionados of all sorts, knitters have shorthand codes for commonly used phrases—ham radio operators have them, too. Maybe John will post about them someday and then we can do a cross-pollinated offering, understandable only by those knitting hams of the world—or maybe their spouses.
The OTN's (On The Needles—projects underway) I'm sharing today are all "work" designs, though the line blurs between business and personal knitting. These projects are all destined to be available as patterns in the not-too-distant future. I also have a few others in the works that I have to keep under wraps for now.
First are the "Wicked Warm" family of earflap hats and mittens. I first knitted up this design for the small fry last year.
She put on the hat and pretty much left it on all winter. In Maine, "wicked" means just as good as it gets. I tinkered with the pattern a bit and started knitting, first in the Fibre Company's Terra. It's rustic looking, but buttery smooth. Then I got on to Queensland Collection Kathmandu Aran, with Rowan Kid Classic for the lining and earflaps—the two yarns I used for the original hat. Lovely.
Finally I made a large size using Rowan Felted Tweed Aran, with Kid Classic for lining. Way softer than a tweed has any right to be. I clearly was getting carried away! Mittens are in the works right now, some in the same colors, others in new ones, and the hats will soon be finished, tasseled and blocked.
When the pattern is edited and ready to go, it will be offered here on the blog at a discount for a period of time before being available on Ravelry.
This next design has been so much fun. I picked out 2 skeins of Madelinetosh Tosh DK at Helen's (Heavenly Sock Yarns, Belfast, ME) a few weeks ago in colors Celadon and Norway Spruce. I have had a wave/ocean/surf design in mind for a long time and kept trying different combinations of blues, grays and whites, but nothing really took. Probably because the ocean, in winter anyway, is more green than blue, especially the surf. Hence the name—Surfside (thanks again, Faith!). So I played around with the grid and here's what I came up with.
Since I took this picture, I've finished the hat as well and it is being blocked. Since there are two motifs, 8 stitch and 12 stitch repeats, the pattern doesn't lend itself well to sizing up or down. The samples are an average adult size and used up almost all of both skeins, which worked well as this is a pricey yarn—but SO gorgeous, and soft.
Here are a couple of projects that have been languishing—time to get them finished up.
Both use the same basic pattern, but in different colors, as my After The Rain mittens. The cammo colored mitten is destined to be a "shooting glove", with a separate index finger. Probably will appeal to a pretty small segment of the knitting world.
Both patterns will be available, free, here on the website (Ammo-Cammo and Pastel Rainbow?). Soon, I hope.
This mitten was really fascinating to design—I love cables, but color pulls me more strongly so I do texture less often. I had this lovely indigo colored Terra, and I really wanted to make a Celtic knot design.
I fired up my charting software and came up with this design—unfortunately it is too wide for people with small hands and too short for people with wide hands! So it's back to the chart to add length and/or remove width, then pull it out and start over.
This project is destined to be a tam/beret, in the same pattern as my Ragged Island mittens.
It fell to the bottom of the barrel in the Christmas knitting frenzy and is now back on the desk and calling my name. I'm hoping to finish this up and have the pattern available before the month is over.
This final KO (knitted object) is not really OTN, since it is the beginning of a swatch—but if all goes well, it will be the basis for designing a circular, fitted pullover, with a color work pattern on the yoke.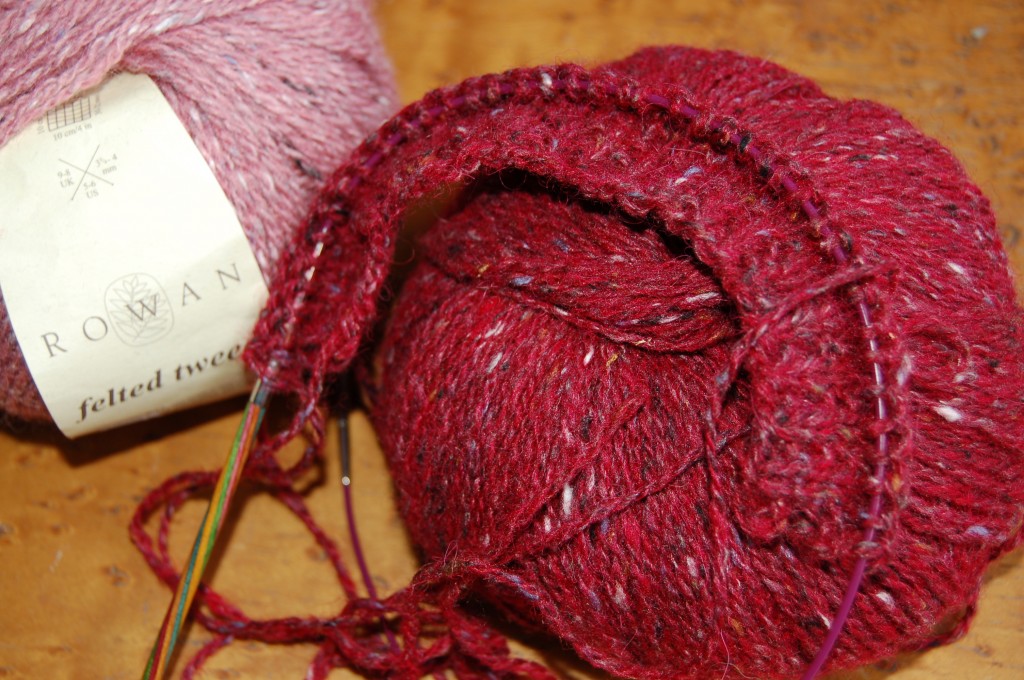 Felted Tweed DK is lovely yarn to work with and I am hoping to get this one underway just as soon as some of the smaller projects are launched.
This number of projects doesn't seem too bad, does it? Of course, I haven't shared any of my ridiculous number of personal projects, WIPs (Works In Progress) and UFOs (Unfinished Objects—unlike WIPs, no progress is currently being made) alike. We'll save those for another day.