I had hoped to do this post on Friday January 6, the actual feast of the Epiphany (the day the magi arrive), also known as the 12th Day of Christmas–because if I had, then I could have honestly said all my Christmas knitting was done for Christmas (the season, at least). But I'm a little late–it's still better than the year I finished my Christmas knitting in June (as in the following June).
If you've followed this blog at all, you may have heard of the Christmas Box–this was a trial run, and I think overall it went pretty well. I definitely need to get a bigger variety of projects done (and a lot earlier, too!). I hope to get at least 1 project a month finished and stashed–we'll see. I gave people options for a few unmade projects, so some of this after the day knitting is actually legitimate–it wasn't ALL my procrastination.
The hands down favorite project this year (2 special requests, knit after Christmas) were the Fetching mitts. Recipients were Kathy, Polly and Phoebe.  All the mitts used  my all time favorite Marden's find–Reynold's Revue, a superwash merino.


Still on the fingerless mitt track, a pair of Tabata mitts and a substantially altered pair of Dashing mitts for Emily and Jonathan, as well as 2 sets of runners mitts and headbands for Margaret and John (can't show yet). Both projects used Knit Picks yarn, Wool of the Andes Sport (Tabata), and City Tweed Dk (Dashing).
Other projects that found homes–the Maine Tourmaline mittens (In Done Roving Farm's Ewe Kidding Me –55%wool, 45%mohair) in colorway Maine Tourmaline, and Cream of Celery soup hat (in Quince & Co. Chickadee) for Sally, the Entrelac scarf  (Crystal Palace Yarns Mochi Plus) went to Margaret, and Phoebe happily claimed the Green Tea scarf (in Twisted Sisters Petite Voodoo, colorway Green Teas(e)).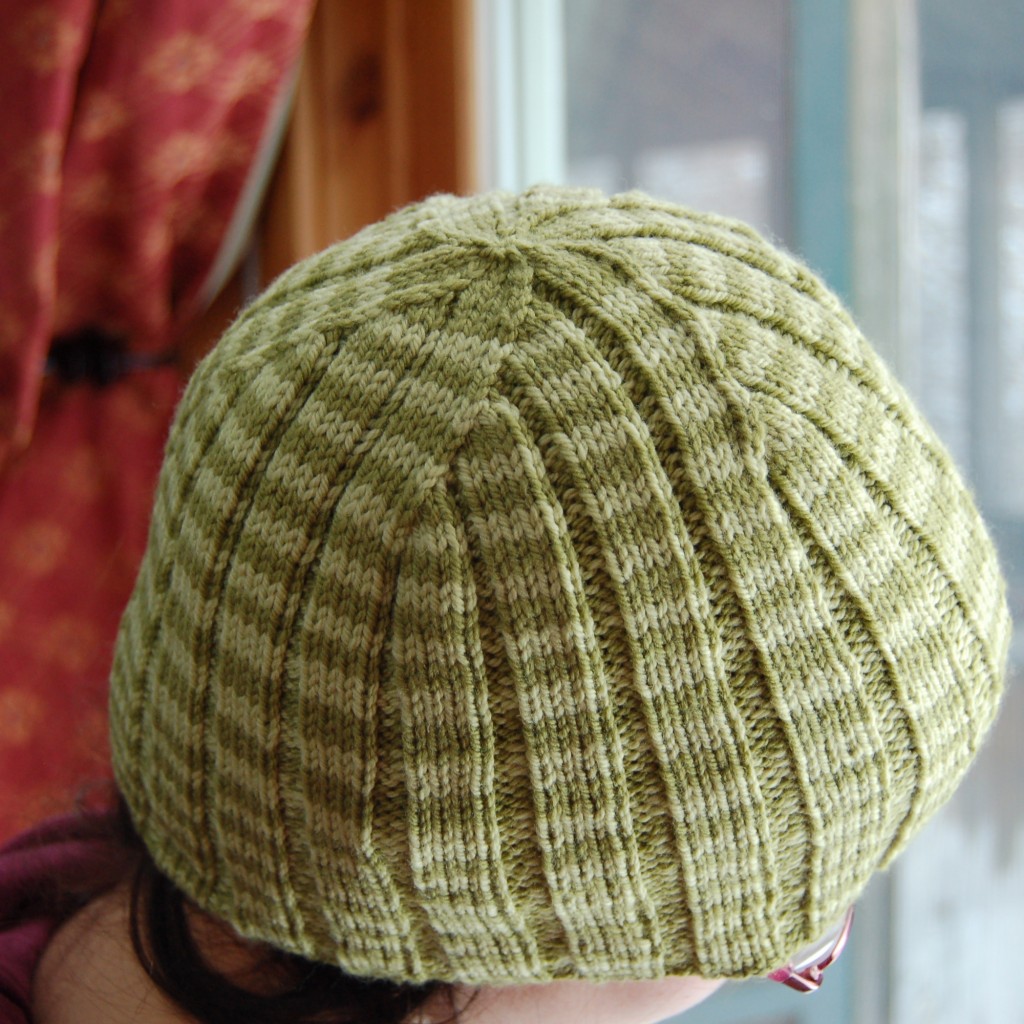 No one claimed my favorite, the Crazy Quilt scarf knit in Bargain Bunny–that 10% angora scared away all the contact lens wearers!
Well, the season is over, some family members have been gone a while and more are leaving soon. We'll be way down in numbers, and it will probably be pretty quiet–might even snow? Sounds like a good time to get a few projects knit up for the box–then I won't have to resort to some quick last minute dishcloths like I did this year!